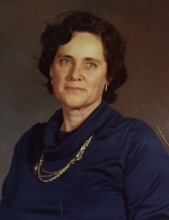 Obituary for Opal A. Wise
Opal A. Wise, 87, of Elizabethtown, formerly of Sonora, was received by our Lord and Savior on Tuesday, April 17, 2018, while at Helmwood Healthcare.
She was born September 15, 1930 to the late Noah and Thelma Miller.
Opal loved to garden and work in her flowers. She was an avid listener of WJCR Christian Radio and a Kentucky Colonel. She loved her doll collection.
Over the years Opal and Boss, her husband, ran a successful business for many years and a farm. The farm was a lifelong dream of theirs.
She was preceded in death by her husband of 66 years, Austin "Boss" Wise; an infant daughter, Debra Kay Wise; a son, James "Jimmy" Wise; two grandsons, Brian White and Justin Ross Holbert; three brothers and four sisters.
She is survived by a son, Willard White of Elizabethtown; three daughters, Ruby Calloway of Elizabethtown, Wanda Holbert (Willie) of Hodgenville and Tracy Bush (Troy) of Elizabethtown; nine grandchildren, Gene White (Delores) of Vine Grove, Kim White (Patricia)of Wauchula, FL, Bridgette Blair (Rocky) of Hodgenville, Douglas Wise (Connie) of Elizabethtown, Jaret Calloway (Jennie) of Sonora, Santana Sanders of Elizabethtown, Stephen Bush (Megan) of Elizabethtown, Matthew Bush (Sydney) of Hodgenville and Denise White; eight great grandchildren, Whitley Milby (Ben), Allison Jones (Tyler), Lilly Faith Blair, Justin White (Shelby), Josh White, Dennis Calloway, Keagan Bush, and Chance White; two great great grandchildren, Justin Rhett Milby and Kingsley Lane Calloway; two sisters; one brother and several nieces, nephews and friends.
Funeral services will be 2PM Saturday, April 21, 2018, at Dixon-Atwood & Trowbridge Funeral Home with Rev. Scott Kerr officiating. Burial will follow in Sonora Cemetery.
Visitation will begin at 11AM Saturday at the funeral home.
To express an online condolence and light a memory candle please visit, www.dixonatwood.com
Dixon-Atwood & Trowbridge Funeral Home is in charge of the arrangements.